Treasure Hunting 
Treasure hunting with a metal detector is fun, healthy and potentially profitable.  It fits great with the RV lifestyle.
Many years ago, when I was in the army, I watched a guy find 2 or 3 dozen coins with a metal detector.  The majority of the coins were very old.  Many were buffalo nickels and other coins from that era.
I was a soldier at Ft. Riley, Kansas pulling guard duty near the old control tower.  Although most of the area around the tower and hangers was paved, there was a grassy area near the old tower.
The guy showed up with his detector and worked that area for three hours.  Before he left he showed me the coins he found.  I asked him why there were so many coins in such a small area.  He told me that this part of Ft. Riley was once used by General Custer's men to practice horsemanship.  Apparently  a lot of those guys fell off their horses and lost the change in their pockets.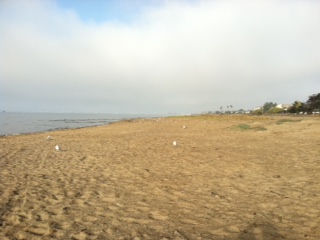 Photo On Right:  This is a small beach in Alameda, California.  It's a fun beach to hunt but others hunt there regularly as well.  It's a great place to watch the local kite surfers.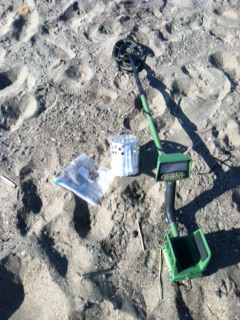 Photo On Left:  This is my detector.  It's a Garrett GTP 1350.  I can't tell you how it compares to other machines but I like it.  It runs on 8 AA batteries...and a couple margaritas.  Lots of fun. 
Seeing all those old coins made me want to get a metal detector of my own…someday.  Also, I wanted to become a rich international playboy rock star.  Not trying to brag or anything but I got my metal detector about the same time I became an RV full-timer.  I'm half way there.  Now to start those guitar lessons.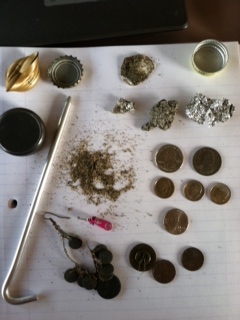 Photo To Left:  What I found on the beach.   On top are bottle caps.  There were more.  There were lots of Hershey Kiss wrappers too.  Odd bits of aluminum foil.  87 cents in change.  I found a Capri Sun pouch.  It was buried so deep the ingredients were printed in Chinese.  There is a metal button.  To the left of the button are two earrings.  The pink one is a small zipper pull.  A tent stake and a small tin of bees wax.  There was no wax in the tin just a small amount of  green powder.   After some lengthy consideration I decided not to snort it. 
I also found a beautiful Rolex watch.  However, it was a disputed find.  I used the internationally recognized legal argument, "Finders keepers, bro."  But he countered with the "possession is nine tenths of the law" argument.  Emphasizing that the watch was secured to his "f**king wrist" at the time of my discovery.  In the end I decided to be the bigger man and just walk away.

Treasure hunting really is a great fit for us RV full-timers:
·         It's affordable, can pay for its self and be potentially very profitable.
·         It's a healthy activity.    It gets you outside in the fresh air and walking.  It's relaxing and reduces stress. 
·         It's a good way to meet people and make new friends.  And it's no secret that metal detecting chicks are hot.  "Excuse me miss, I couldn't help but notice how that dirt encrusted mercury dime brings out the color of your eyes."
·         You'll learn a lot.  Any serious treasure hunter will tell you that sweeping an area with a detector is only half the story.  If you want to find the good stuff you have to do some research first.  Look into the history of your town.  When you find out a hundred years ago there was a popular farmer's market just outside of town, that's where you want to do some treasure hunting.
·         Treasure hunting is a good family activity.  They make detectors for kids that are affordable, easy to use, and actually work well enough to hunt coins.
·         Every hunt is different.  You never know what you're going to find.  Bring a cooler with drinks and food and make a day out of it.
Buying a metal detector?  My advice to someone buying their first detector is to find a local shop like Golden State Metal Detectors and have experienced people help you buy the right machine.  They will ask you questions like, "where do you expect to do most of your hunting? Will you be hunting for mainly gold, coins, or relics?  What's your budget?"  They will make sure you are happy with what you buy.  They'll recommend the right accessories. 
The following companies make good quality machines:
·         White's
·         Garrett
·         Fisher
·         Teknetics
·         Minelab
·         XP Deus
Another good place to buy a machine is Kellyco.  They have a huge selection and good prices.  Lots of useful info on their site as well.  I bought my detector from kellyco and have been happy with it. 
Where to hunt:
·         Parks
·         Beaches
·         Schools
·         Fair grounds
·         Old farms and home sites
·         Old military bases
·         Ghost towns
·         Anywhere people gather or used to gather
Always get permission before hunting on private property.  Don't hunt on historic sites, monuments, etc..  Always leave an area the way you found it.  If you dig a hole fill it in before you leave.
Can an RV Beachbum make money with a metal detector?  The short answer is yes.  However, based on my limited experience, I'd say it might be difficult to make a good living just by hunting for treasure.
You may find gold and diamond rings every time you go hunting but odds are you will not.  You may find that ultra rare $50,000 coin but odds are you will not.  The idea is to have fun.  If you need to find treasure to pay the bills it will not be fun.  It will turn into a source of stress.
If I were going to try and make a living out of treasure hunting I would create a treasure hunting website and monetize it with affiliates, e-goods, hard-goods, and services.
You can offer metal detecting services to your local community.  Folks will pay you to find lost jewelry, underground pipes, lost keys, evidence at a crime scene and more.  Some metal detecting clubs work with their local police departments and will search crime scenes for free.
Check out these links for more info on treasure hunting:
Stout Standards  A great site.  Lots of useful info and good stories too.