Man Cave 
Man Cave,  RV Beachbum style!
If you google "man cave" you'll get a ton of search results.  Most of those will include pictures of a nice room filled with the usual expensive man cave stuff.  Stuff like a mahogany wet bar with whale penis leather bar stools.  A top of the line pool table, a 500 inch big screen, and a bunch of over- priced sports memorabilia scattered about and attached to the walls.
Google also coughed up a man cave search result that promised an "affordable" cave.  It was a converted garage with the, almost mandatory, checkered flag floor, a 500 inch big screen, pool table and a bunch of Nascar and beer swag scattered about…and attached to the walls.  The frig was covered in diamond plate.  The big savings must have come from the bar stool down grade to vinyl. 
What I want to talk about is a real man cave.  Not just another room filled with a big screen, X-box, beer, and foosball table.  And maybe a racy pin-up calendar if the lady of the house doesn't object.  Lets talk about a cave for the RV Beachbum.  Or simply, bumcave.  It's pronounced BUM KAH VAY.  If that doesn't sound right to you, drink 3 or 4  MAR GAH REE TAYS and it soon will.  Trust me.
Imagine you're out there RV beachbumming your little heart out and along the way you find the perfect little beach town.  You like it so much you want to stay for a while.  You don't want to give up the RVing lifestyle.  You don't want to buy a house or rent an apartment.  You just want to live in this really cool town for a while.  You check out local RV parks but they are not really an option.  Too far out of town.  No space available.  Too expensive, no wifi, no pets and so on.
What's a bum to do?  One possibility is to find a small, light-industrial shop to rent.  Then turn that into a proper bumcave.  Note: "Proper" in this instance means that 1) it has a well stocked margarita bar.  And 2) all your guy friends think this is the coolest thing ever and are most envious.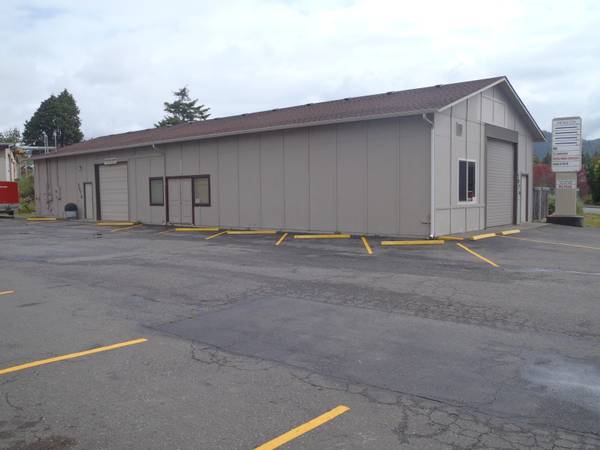 Depending on your needs and location, renting shop space can be surprisingly cheap or expensive.  Above is an example of what a bumcave (BUM KAH VAY) might look like.  This shop was listed on Craigslist.  It's 1216 square feet (32'x38').  They want $486 a month for rent.  It's in Brookings, OR.  Brookings is a great little beach town just over the California border. 
The idea is to find a space that will be large enough to easily accommodate  your RV.  Once you park your RV in the shop it could become your apartment.  (You may not want to mention that to the leasing agent.  Many cities frown on folks living in their shops.  Here in the very expensive San Francisco Bay Area it is very common.  Keep a low profile and you should be ok.)  Keep in mind if you run a small business out of the shop you will be able to take advantage of a lot of tax benefits.  Your rent, utilities, and more can be deductible.  Make sure the permissible uses for the building cover the business you intend to run.  For example, a retail shop, wood shop, kayak rental, or consignment shop might be ok.  Whereas an auto repair shop might not be ok for the same building.  Make sure you have enough space to park the RV and run the business if you intend to start a business.  Make sure the shop has a large enough roll up door to meet your needs.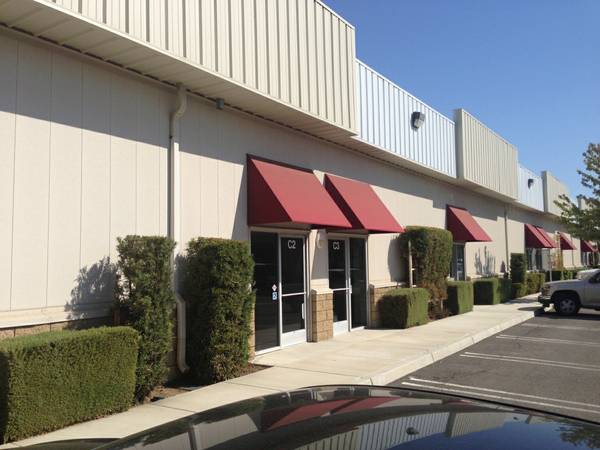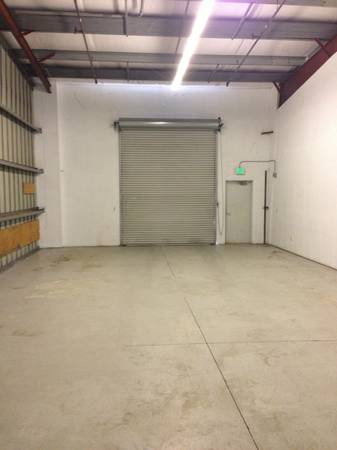 The pictures above and to the right:  Shop space available in Brentwood, California at $1.00 a sq. ft.  Shops were available in 1200 and 1500 sq. ft.   

A few things to consider:
·         Most industrial and commercial space is leased for a year or more at a time.  However, you can find month to month rentals if you look for them.  Make sure you know how much it will cost you to get in and what your monthly total will be including any extra costs like utilities.
·         Consider sub leasing or renting a part of someone else's shop.  Sometimes you can set up a month to month cash deal and save a lot of money.  Be careful with this.  The more formal and legit your business is, the more important it is to protect yourself  by doing everything by the book.  You don't want to end up at the mercy of some guy who turns out to be a flake.  Don't pay a large amount of cash in advance.  He may be 3 days from being evicted. 
·         What is the neighborhood like?  High crime?  What do your neighbors do?  Do they use smelly, dangerous chemicals?  Will there be delivery trucks coming and going all night?  Do they own a dog that barks all night?  Will anyone have an issue with your dog?
·         You'll have a bathroom.  No more pump-outs.  You'll have a physical address for mail.  You'll have space for all your toys.  Your rig will be out of the weather and more secure against theft and vandalism.
·         You will have a lot of creative freedom when setting up your man cave.  For example, you could create an indoor campsite complete with a (propane) campfire.  String a few lights and you have stars.  A couple of fans and you have an ocean breeze.  Invite a few friends over for margaritas and BBQ.  Later roast marshmallows  on the campfire.  Miss the beach?  Haul in some sand (not recommended for cat owners) to spread around the campfire.  A few lawn chairs and you're set.  If your shop has sky lights and lots of windows you could even plant a small garden.  The point is you can be creative and make a custom bumcave just for you.  Mention this to your friends and see what ideas they come up with.
·         If the shop comes with a yard and privacy, you could "rent" storage or parking space to other RVers to help pay for expenses.  Or just allow Boondockers to stay a night or two for free.  A good way to meet people and make new friends.
Here are a few ideas for businesses that might be a good fit for a bumcave. 
·         Bicycle Shop   Sell, rent, repair
·         Hauling   Need at least a pickup truck
·         Tattoo Parlor
·         Art Gallery   Sell on consignment to reduce overhead
·         Pet Grooming
·         Import Export
·         Music Store   Sell/rent musical instuments, give lessons, rent space to instructors
·         Used Books   Notary Public
·         Thrift Shop
·         Used Appliances   Sell and repair
·         Treasure Hunting   Sell/rent metal detectors, etc
·         Wood or Metal Shop
·         Collectables   Comic books, coins, maps, etc
·         Antiques
·         Nature Shop
·         Sports Equipment   Sell/rent
·         Warehouse   For your webstore
·         Janitorial Services  Window washing, high pressure cleaning—sidewalks, driveways, shopping carts, etc.
·         Handyman Services
·         House Painting
If you already have a man cave complete with an RV you call home, please tell us about it.  We would love to see what other bums are up to.  And now it's time for another margarita.