Beach Camping Map
Symbols:
Color key:     GREEN =Free
                   ORANGE=State Park or State Beach
                    PURPLE=Commercial for profit RV park or business
Shapes:   Diamond=On the beach camping
                Balloon=Directly next to the beach or very close to the beach
                Star=Casino with overnight RV parking

   Note: We've added green stars to the map.  They indicate FREE overnight parking at Casinos.                

It is always a good idea to call the campground BEFORE you decide to travel there.  Often a campground will be closed temporally because of storm damage, fire risk or fire damage, or a "State budget crises."  You don't want to travel to a site just to be turned away.  Call first.
---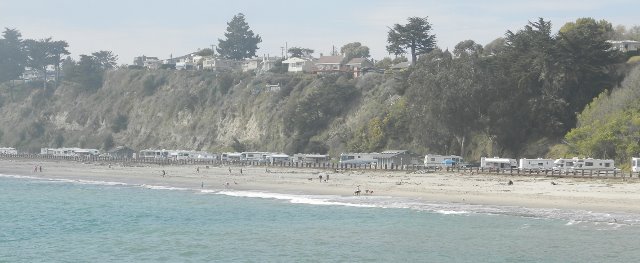 Who hasn't dreamt of taking off in an RV, leaving the rat race far behind and "living at the beach in my RV"?  If you're an RV Beachbum you may already be living the dream and beach camping on a regular basis…or at least working on it.  Your alarm clock is the sound of the rolling surf and the call of the gulls.  Your boss is…a fading memory. 
This map is here to help you find those great beach camping spots.  Whether it's a primitive on-the-beach site in a State Park or an RV park with all the amenities and ocean views, you'll find it on the map. 
A big Thank You to all the bums who shared their favorite beach campgrounds.  If we missed any, please let us know.  Thanks again!
Here are a few important things to consider when beach camping:
Some campgrounds require reservations (can be several months out) while others are first come first served.

Rates can vary a lot, even between campgrounds that are similar and relatively close to each other.

Rules and fees regarding pets can vary from campground to campground.

"Hook-ups" can mean different things to different people.  Typically, "hook-ups" at State Parks mean water and electricity but no sewer.  "Full hook-ups" includes sewer.  Some places have WiFi for free or available for a fee.  While other places have no amenities at all.  These are usually referred to as "primitive" campgrounds.

Be careful when driving on the beach.  Conditions can change very quickly.  Hard packed sand can become loose and soft in just a few feet.  Some places will require you have certain items with you before they will let you drive on the beach.  Items might include a shovel, boards, rope, etc..  Ask about it when you call ahead.

When parking on the beach find the high tide water mark.  Make sure your RV will not be flooded when the tide comes in.