Selling At Craft Fairs

More and more people, especially RV full-timers, are earning money by selling at craft fairs, flea markets and other venues.  People are looking for one-of-a-kind, handmade items that can't be found at places like Walmart and Target. 
Vintage stuff and recycling and repurposing vintage stuff has become hugely popular.  It's a great time for RVers who want to travel around their state or around the country selling at craft fairs, flea markets, arts and wine festivals, and other such shows.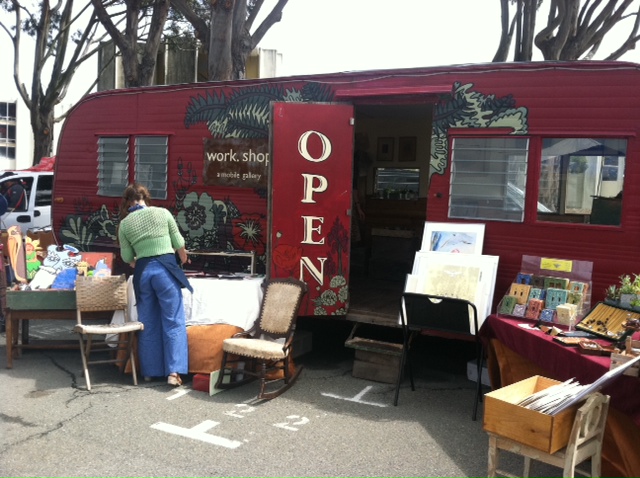 Photo on right:   Nora Dougherty's converted trailer.  To see more check out her facebook page.
There appears to be a trend where people are turning old travel trailers and old school buses into mobile boutiques.  Some artists turn the trailers into a mobile shop or studio where they can create new pieces as well as display them. 
Old, fixer-upper, travel trailers can be bought for relatively little money.  Occasionally you can find them for free if you're willing to "come and get it".  It can be a hassle moving a "free" trailer because they usually need work before they can be moved.  The taillights my not work.  The tires may be flat and rotted.  The registration may be long out of date.  A free trailer will still end up costing you money.    However, if you're planning to turn it into a mobile boutique, the investment should be relatively small compared to the long term return.
Note:  Be cautious when inspecting an old trailer.  Hornets, wasps, spiders, snakes, and crack heads love to inhabit old, unused trailers.
Here are a few tips for selling at craft fairs:
1)  Start Small   If you are just getting started don't run out and spend a lot of money.  Start with a simple booth and make sure folks are buying what you're selling.  Once you've proven to yourself that you can make a good profit then invest in things like converting an old trailer into a mobile boutique.
Start by selling at small, local shows.   When people buy your stuff keep track of their demographics.  Are they young or old?  White collar or blue collar?  Male or female?  The idea is to know your customers so you can target them and pick shows where you're most likely to find them.  Consider sharing a booth with another vendor to help keep overhead expenses down.  In the beginning, use creativity in place of cash when possible.  Does your trailer really need hardwood floors?  Maybe you could just use plywood, paint it, and cover it in hay.  Use the good hay.
2)  Walk The Venue   Is this the right show for what you're selling?  Is your stuff good enough or too good for this show?  Does your stuff fit in with what everyone else is selling.  Are you trying to sell scrumptious doggy treats at a cat show?  Some shows are juried.  That means judges will look at your stuff and decide whether or not you can sell at that show.  Talk to other vendors and ask questions.  They will give you advice and tell you which shows would be a good fit for you and which ones to avoid.
Try to book your shows as far in advance as possible so you get a good choice of booth space.  You want to be near the food court or rest rooms because that's where folks hang out.  Stay away from live music.  It's too loud to allow you to talk to your potential customers.
3)  Crunch The Numbers   You will spend money selling at craft fairs.  Figure out what your typical overhead expenses add up to.  How much is the booth space?  Costs can range from $10 at a school fund raiser to $800 at a large event where 75,000 people are expected to attend.
Other expenses to consider:
Travel expenses

The booth fixtures and decorations (table, chairs, lights, etc)

Your product inventory

Permits and fees
Try to determine in advance how much you'll need to sell to break even.
4)  Everything Has A Price   Make sure there is a price tag on every item.  Try to have a good price range.   You want some easy to sell, inexpensive items but you also want some more expensive items with a bigger profit.  It's easier to sell one item at $200 for a $100 profit than it is to sell 100 items at $2 for the same profit.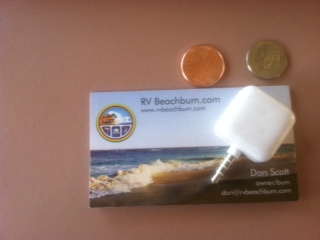 Photo to the left:  This is the card reader I was sent from Square Up.  It's free when you sign up.  Signing up is also free.  Get the details here.
5)  Accept Credit Cards   If you don't take credit cards you will lose sales.  Especially if you're selling items for more than $20.   With tools like Square Up just about anyone can accept credit cards.  You'll get a little device (a card reader) that plugs into your smart phone.   Swipe the card and enter the amount.  It's that easy.  The fee charged for the service is typically around 2.75%.  If you swipe a credit card for $100 you'd see a deposit of $97.25 in your bank account. 
6)  It Takes Two   Your merchandise is beautifully displayed.  You're working your booth.  Sales are brisk.  Then Mother Nature Calls.  That dollar menu breakfast burrito is about to mess up your day.  You are a self-driven, highly motivated, professional, selling machine.  But right now you need to find a potty.  You must find a potty.  If you are alone who will watch the booth? 
Setting up and tearing down at a show can be a lot of work.  It goes a lot easier with two people.  Also, a second pair of eyes will go a long way towards loss prevention.
7)  Bring What You Need   You don't have to bring all your merchandise but bring enough.  If you bring more than you need you'll just have to pack it up and lug it back home.  Not a big deal.   Running out of merchandise in the middle of a show…that just plain sucks. 
You'll also want to make a check list so you don't forget anything:
Festival and Craft Show Locator

Table, chairs, table cover, display cases and stands

Business License and permits

Credit Card machine/device

Bags, boxes, packing materials

Your Business cards and other promotional materials

Cash for making change

Counterfeit-bill detector pen

Bottled water and snacks

Pop-up canopy if you'll be outside

Calculator, pens, paper
8)  Go The Extra Mile   Make your booth interesting and inviting.  Make sure folks can walk around.  Display your items with respect so it looks like you are proud of each and every item.  If you can't actually work in your booth, put up photos of you working in your shop or studio.  Look at other people's booths.  Which ones do you like?   Draw inspiration from them.  Once again, make sure everything has a price tag on it.  Greet everyone that comes into your space…then leave them alone for a bit so they can browse without feeling pressured.
9)  Build A Mailing List   Collect contact info (email addresses) from the folks that stop by your booth.  You can get their info by having them enter a drawing for a prize.  Once you have a contact list you can send them special offers and updates on new products.  Send updates regularly and before gift giving holidays like Christmas and Mother's Day.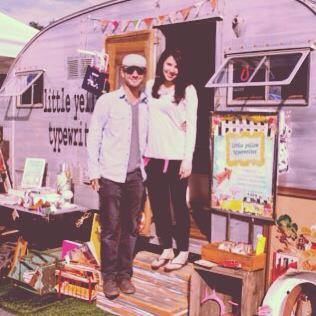 Photo on right:  Zack & Laura with their converted trailer.  Their business, Little Yellow Typewriter, is a big hit. 
10  Use Social Media For More Sales   People who understand how to use social media will sell more stuff than people who don't.  Social media allows you to build "relationships" with tons of people all over the country and beyond.  People who know you, who you talk to regularly, are more likely to do business with you.  They will not only buy from you but they will tell their friends all about it.  They will promote your business for free. 
A  good example of how to use social media can been seen at Little Yellow Typewriter.  The bottom line is  these folks sell vintage stuff.  Old stuff.  But when you visit their website and Facebook and Pintrest pages you see there's a lot of other stuff going on.  It's all that other stuff that makes them and their merchandise stand out.  Imagine two restaurants that serve exactly the same food.  The only difference is the atmosphere.  One place is dull and boring and the other isn't.  Even though the food is exactly the same we know the boring place would not have as much business as the fun/interesting place.  
11)  Crunch The Numbers Again   Did you make a profit?  Add up all your expenses and subtract that from your sales.  If you made a profit was it enough to justify doing that particular show again next year?  Keep a log of the events you do.  Make a few notes about what you liked or didn't like.  This will jog your memory for the next time.
Selling at craft fairs can be a great way to create a second income or a great full-time business for us RV full-timers. 
Here are some useful links for finding shows and more...
The Crafts Fair Online  Lots of useful links...