Etsy, A Small Business Opportunity
 Update:  I have decided to walk my talk and have set up my own RV-based Etsy shop.  The name of the shop is Coins Currency and More.  I'll post regular updates on the blog page for those who are interested in seeing my progress.  I have also created an Etsy Team for RV full-timers who are running an Etsy business out of their RV.  The name of the team is called Etsy On Wheels.
Etsy is another great (FREE) way to get into a business of your own.
Etsy is an e-commerce website that lets users buy and sell handmade and vintage stuff.  Their definition of handmade is pretty loose as they allow manufacturers to help you with your designs.  They have a review process to ensure that manufacturers meet their "ethical expectations".  Etsy reserves "the right to reject partnerships that aren't in the letter or spirit of Etsy's guidelines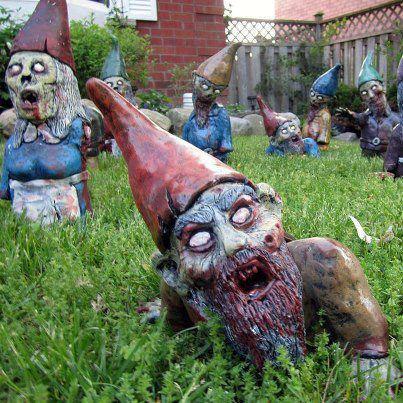 Photo On Right:  These cute handmade garden gnomes might be the kind of thing you could find on Etsy.  This photo was floating around the web...sorry, I don't know the source.

 In other words, you can have manufacturers involved in making your stuff but you can't just go out and buy manufactured stuff and sell it on Etsy.  You can hire other people to help you make your products and you can use shipping and fulfillment services.
There are a few manufactured items you can sell without review:
·         Digital prints
·         Posters
·         Music
·         Books you've authored
·         3D printed items
You may be thinking, "I'm not a crafty person,what can I sell?"  The answer is vintage stuff.  Etsy's definition of vintage is "at least 20 years old".   The vintage stuff doesn't have to be handmade.  You could, for example, sell old typewriters, cameras, kitchen gadgets, or clothes. 
You can also sell arts and crafts supplies.  They can be homemade and/or commercially manufactured.
There are two ways an entrebumneur can use Etsy :
1)   Sell stuff on their web site.  Joining Etsy and setting up a shop is free.  They charge 20 cents to list each item.  A listing lasts four months or until the item is sold.  They charge a 3.5% fee on the sale price of an item when it's sold.
You need a credit card to register as a seller on Etsy.  In some countries you can register through PayPal instead of using a credit card.  There are no charges until you start listing items.
2)   Use Etsy as a source of products for your existing  business.  One of the biggest challenges RV entrepreneurs face is finding stuff to sell.  There are a million sellers (30 million buyers) on Etsy.  Many of the sellers will gladly sell to you wholesale.  If you're willing to spend some time looking for good stuff to sell, you'll find it on Etsy.
The folks selling on Etsy are entrepreneurs just like you.  If you have an idea that creates a win-win situation, don't hesitate to share it.  Maybe you could come up with an affiliate deal or you could advertise their shop on your site.  Just make sure their products are a good fit with your web site and that it's a true win-win.
Etsy Teams:   Teams is a community feature where members can work together to promote each other's businesses.    Teams are often centered around a theme, like jewelry, or a geographical area.  Joining a team is a great way to get access to folks with more knowledge and experience.  If you're looking for product to sell, Teams allows you to talk to several people, with the same theme as you, at once.  Would love to see an RV-based Etsy  team.
I think Etsy is a great way to start a small business.  It's easy and cheap to set up.  All you have to do is come up with stuff to sell.  If you are not a crafty person you can sell vintage items or arts and crafts supplies.  The sellers I've contacted have all been very gracious and helpful.  If you're RV-based keep in mind you're going to be space limited.  If you need more space, find yourself a nice little beach town and set up a bumcave (pronounced Bum Kah Vay).  Visit the Entrebumneur page to find RV-based businesses...including RV-based Etsy businesses.
Related Links:
Etsy Shops: 
Example 1   Stratus Silver
Example 2   Anything Goes Here 
Example 3   Belles And Ghosts
Example 4   Mango Tree Creations
Example 5   Bleeding Heart Jewelry
Example 6   Metal Mom Jewelry