The RV Lifestyle In 5 Simple Steps
When I talk to people about living the RV lifestyle I often hear something like this, "I would love to do something this but I wouldn't even know where to start."
I've also heard:
·         "Don't you have to be rich?  How do you pay your bills?"
·         "Yo bro, I know a lot of mother f***ers, bro, that live in RVs, bro.  Hey bro, you got any spare change?"  
·         "My sister and her husband live in a motorhome but she's kinda weird."
·         "Is that legal?"
·         "Yeah, dat cool.  Yo man, could you bless a brotha wit a dolla?"  
Since everyone's situation is different, their path to the full-time RV lifestyle will be different.  In some cases the decision will be very spontaneous.  The newly divorced man or woman who longs for a little adventure and needs to spread their wings, for example.  Others, like a couple getting close to retirement, may start planning their lifestyle  two or three  years in advance.   Generally speaking, the more complicated your life the more involved the transition will be to living the RV lifestyle.
Do you have a good job and benefits you don't want to give up?   Do you have kids?  Do you own a house?  Will you sell it?  Rent it out?  There are many things to consider.  One of the biggest factors is how much money you make and where does it come from.  Whether you are financially independent  with a six or seven figure income, or you're like me, so poor you routinely post photo copies of your driver's license and social security card on craigslist and Facebook hoping some poor sucker will steal your identity, your income will determine your options.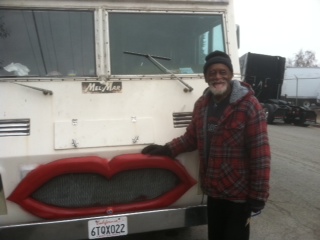 This is Manny.  A nice guy.  A gentle soul.  A new RV full-timer.  Manny lost his house and ended up homeless.  The manager at a local animal shelter found out that Manny was spending nights in the bushes behind her building.  She spoke to the owner of the tow truck service across the street.   Between the two of them they were able to give this old (everything works) motorhome to Manny for free.  I asked Manny about the lips.  He said, "Those were already on there.  So many people like them.  They always say something and smile.  It makes people happy so I'm going to keep them on there."

The important thing to remember is you don't need to have a lot of money to enjoy the RV lifestyle.  It is possible to buy an older, small fixer upper RV for $1500 and fix it up little by little as you travel.  Bar-B-Qing with friends  on the beach or telling stories around a campfire is not only cheap fun it's probably the best kind of fun.  You can earn money with a small RV-based business or work camping.
Here are the basic steps I took to transition into an RV full-timer:
Step 1   Decided I wanted to try the RV lifestyle.  That was years ago.  Waited until it made sense, kids were older, etc.  As crazy as it sounds, not everyone wants to live in an RV full-time.  A few people decide the RV lifestyle is not for them after they spend a little time on the road.  I was 99% sure I was going to like it.  I love it.
Step 2   I became an arm chair RV lifestyle expert.  I spent many hours on web sites and forums reading about other people's experiences.  I read numerous blogs.  I subscribed to RV magazines  and bought books.  I hired a voodoo priestess, a psychic , and bought a magic eight ball.  I ate more fiber.  All of this was a lot of fun.  The more I learned the more raw material I had for my imagination to work with.  After a few months I knew enough to start making plans.  I knew what kind of camping I'd be doing, where I'd be staying and what it would cost month to month.  The more you know the easier it is to get started.  
Here is a little quiz I put together.  I believe the average full-timer can probably answer most, if not all, of these questions.   If you are in the educating yourself phase you will eventually get to the point where you will be able to answer all of these questions.  You don't need to look for the answers on an item by item basis.  Just immerse  yourself  in all things RV related and you will eventually just know this stuff through osmosis.
Step 3   Create a Budget   As you educate yourself you'll  get a good feel for what it will cost to live day to day.   I created a tight budget for myself.   I cut back on everything.  Except margaritas, banana splits, and gummy bears/worms.  I stiffed the psychic.  Figured if she was any good she would have seen that coming and never agreed to work with me in the first place.
If you know it's going to be a while before you're ready to hit the road, try to get rid of as much debt as possible.  It goes without saying that living free and stress free is very hard to do when you've got  a lot of bills to worry about.
My goal was to save enough money to be able to buy a decent fixer upper and pay cash for it.  My strategy was simple:
·         Do my best to incur no new debt.  No using credit cards for stuff I didn't need.  I made two exceptions.  I bought myself a nice metal detector and a Sea Eagle inflatable kayak.  
·         I stuck to free entertainment.  Going to free street fairs and festivals instead of paid sporting events and concerts, for example.
·         I was constantly looking for ways to save money.  For example, changing my mobile service provider and RV insurance company. 
·         Eating at home instead of eating out.
The money I save now goes towards paying off debt and fixing up the RV.   My advice to someone who is on a tight budget is to look for additional ways to save money.  Put that money in a separate RV account or use it to pay down debt.   You'll have to use your best judgment on how to prioritize that.   You may be able to save money by moving into an RV.  Then you can use that saved money to pay off debt faster.
Many people can "find" money even if they are already on a tight budget.  You can find money by giving up smoking.  That's a no brainer and it's not that hard.  I did it.  Drink less beer.  Eat out less.  Don't go to the mall with your friends.  Stick to free entertainment.   Become good at not spending money.
I keep a money log.  Every time I spend money, even if it's just a dollar or two, I write it down in the log.    I also make a note on what I bought.  You may be surprised how much money you go through.  When you look at your log it makes you ask yourself questions.  Questions like,  do I really need to spend $200 on another tattoo right now?  Or, do I really need a mani and a pedi ?
Step 4   Started to de-junk my life.  Everything I own except my motorcycle and pickup truck could fit into my 27FT RV.  I have boxes in storage but if I had to I could squeeze them into my RV.  If you are a packrat  this might be the hardest part of going full-time.  For me it was the easiest.  Getting rid of all that stuff you never use or even think about is absolutely liberating.
Step 5   Was to create a plan for the first day when I moved into the RV.  I didn't want to sit there and say, "Ok, I'm moved in.  Now what?"  I wanted to know where I would be spending the first night.  The first week. And the first month.  After that I wasn't concerned.  After all, the whole idea is to mobile, free, and spontaneous.
Currently:   I'm still working to become financially independent and debt free.  Progress is slow but sure.  The important thing is I like the process.  I like the RV lifestyle.  I firmly believe people are happier when they are working towards something they feel is important.  A great cause, a big goal, or a personal dream. 
There is no one right way to become a successful RV beachbum.  The RV lifestyle isn't for everyone.   But if it's for you, it's worth working for.  Start by educating yourself.  Make a decision to make it happen.  Use common sense and what you've learned to get started today.  Keep in touch.