Kayaking
Very few things go better with the RV lifestyle than kayaking.  Dollar for dollar it's hard to buy more fun.  Whether you spend $3000 on a new one or $50 on a used beater you found at a garage sale, it's money well spent.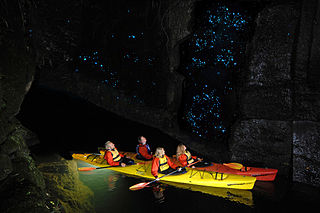 Photo On Right:  Glowworm Kayaking at Waimarino Adventure Park at Lake McLaren, Tauranga, New Zealand

There are many different ways to have fun in a kayak.  You can paddle on ponds, lakes and lazy rivers.  You can shoot the rapids or ride the surf.  Many people go fishing in them.   There are stories of people paddling with dolphins and having flying fish almost land in their boat.  Take your hunny  out for a romantic moonlight paddle on the lake.  Pack a cooler and have lunch on the water.  Take your kids or grandkids paddling.  It will be some of their best childhood memories.  Buy a couple of inexpensive waterproof cameras and they will have the coolest facebook page around.
If you've never been before but want to give it a try, I suggest you find a place like California Canoe & Kayak located in Oakland, California.  They sell and rent kayaks and paddle boards.  They offer classes for every level—from first timers to certifying instructors.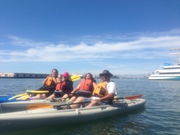 Photo On The Left:  Taking the 4 hour beginning kayak class at California Canoe & Kayak in Oakland, California, included paddling around the Alameda channel.
Some friends and I took the beginning class and had a great time.  It was a 4 hour class with a great instructor and included everything needed for $59.  We learned how get in and out of our boats, proper paddling techniques, what to wear, and more.
The highlight of the class was paddling through the Alameda channel and getting up close and personal with big boats that were anchored.  We paddled through a marina loaded with beautiful yachts.  The owners we met were very nice and would wave and say hello.  For some strange reason I kept wanting to ask them if they had any Grey Poupon .  All of us agreed it was a great time and well worth the $59.
Once you've gone through the basic course at California Kayak & Canoe, they allow you to rent their sit-on-top kayaks.  I'm sure it's the same at other places as well.  Rentals start at about $20 per hour depending on the type of boat.  You can rent sea kayaks once you've completed that class.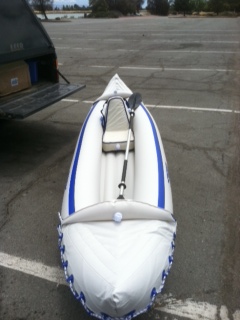 The Photo On The Right:  This is my Sea Eagle 370.  This was the very first time I inflated it.  It took about 20 minutes to set it up.  Now I do it in about half that time.
 
For many people, especially us RV full-timers, a good choice might be an inflatable kayak.  Modern inflatables are super tough and will last many years with proper care.  You can even take your dog or cat with you.  Dog claws will not damage a good inflatable.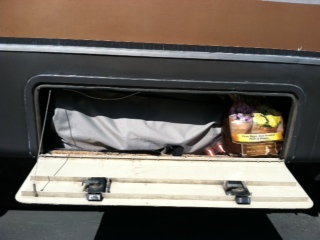 Photo On The Left:  Here it is in it's spot.  Ignore the (very macho) bag of potting soil. 
Most inflatable kayaks will fit into the trunk of a small car or pack easily into an RV storage compartment.  It only takes a few minutes to inflate and set them up.  I've heard of people who keep one in the trunk of their car so they can go for a paddle after work.
Which brings up an important point, kayaking is a great way to get some fresh air and exercise.  Besides crazy circus sex, is there a better way to burn a few calories?  I didn't think so.
Do you have a friend or family member that needs to get off the couch and lose a few pounds?  Instead of telling them "you should lose a few pounds" or "why don't you join a gym? or "the back of your neck looks like a pack of hot dogs", you could buy them an inflatable for X-mas, their birthday, Father's Day or something.  Get one for yourself  and keep it in your car where it's easy to get to.  Then go paddling together.  Heck, get one for everyone in the family and make it a family thing.  Surprise your best friend with one for you and one for her.  You will make some great memories together.
Don't forget to factor in the cost of any gear you might need.  PFDs (AKA life jackets) start at about $20.  A nice one will cost somewhere between $50 and $80.  Revere makes a Belt Pack Life Jacket that looks, and is worn, like a fanny pack.   It retails around $130.  Make sure you have protection from the sun.  A wide brimmed hat and lots of sun screen for starters.  Protect your legs since they will be directly in the sun if you're paddling a sit-on-top kayak.
Kayaking is a great way to have a lot of fun with friends or alone.  It's healthy and gives you a lot of bang for your buck.  Inflatables fit into small spaces which make them very RV friendly.
What about income?  For the right person, Kayaking can become an income opportunity.  As I write this California Kayak & Canoe has an opening in their retail shop posted on their web site.  If you are already a kayaker and have retail experience, this could be your kind of job.  A bum willing to go through the training could become a tour guide or instructor.  Getting paid to kayak…I can think of worse jobs.
Another possibility is to buy and sell new and used boats.  That could be done on eBay, craigslist, and through consignment shops.  It might a great business to run out of a man cave (AKA  bumcave,  pronounced BUM KAH VAY).   Becoming an affiliate of a supplier can be a way to earn commissions when you have a web site and post a link to them.  You send them customers and when someone buys a boat you get a commission.  You don't have any overhead.  All you need is a web site the kayak company likes enough to accept you as an affiliate.  You can check out RV beachbum affiliates here.