The Instant Margarita 
As an Rv Beachbum you and I know there are very few things in life as satisfying as a timely, well made margarita.  You know, that frozen concoction that helps us hang on...Amen?  But what do you do when you need one right now but for some strange reason you can't make one yourself or go out to have one?
How could that possibly happen, you ask?  Well, it's conceivable that you may have just been bitten by a rattle snake.  You could risk driving to the nearest bar (not advised) and having emergency medical responders meet you there.  You could call 911 (advised) for help and make your drink while you wait for their arrival.  But making yourself a margarita might not be a good idea because, as everyone knows, you should lay as still as possible to avoid pumping the venom through your body at a faster rate. 
Thankfully, there is another option.  The instant margarita.  I discovered these recently while grocery shopping.  I was looking at meat, specifically meat prices, and thought "Holy Shit!  I need to find the corn fed beef 'cause this must be the caviar and truffle fed beef."  As I quickly continued down the meat aisle, making a mental note to stop by the Veteran's Hospital to have myself checked for Post Dramatic Stress Syndrome, I ran into the ready-made Drinks.  Oh my!  Hello!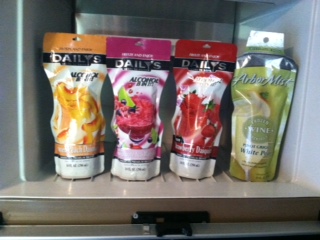 They're not bad.  Not as good as homemade or what you would find at a margarita bar, but drinkable.  This particular Pak-N-Save store had a selection that included, a Pinot Grigio White Pear "frozen wine product", Peach Daiquiri, Strawberry Daiquiri, and a Pomegranate Margarita.  The Pomegranate is my favorite.  The alcohol is already added.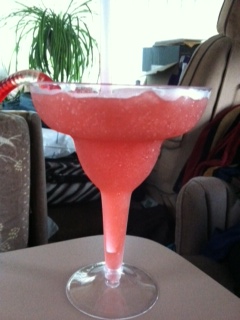 Served in a plastic "glass" and embellished with a gummy worm (I prefer Haribo or Black Forest brand gummy worms), you have a lazy man's margarita.  Or, if you prefer, an emergency margarita ready to go.  Just remember to freeze them first.  Each pouch makes one 10 oz. drink.